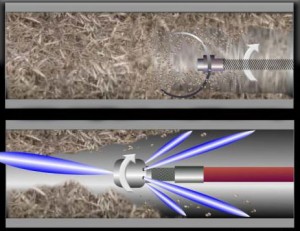 At Drain Unblocking Dublin we use a selection of equipment to clear blockages. For the more serious issues we have high power jet flushing units. These are towed to your property. Jet flushing units are incredibly powerful and can clear most blocked drains in no time at all. We have a selection of nozzles to fit pipes of all sizes. There are many benefits they don't just clear a blockage they can remove debris and scale build up from pipework. As they are so powerful they can also power through solid substances such as roots, concrete or resin.
The different jet flushing nozzles.
There are a number of different types and size of nozzle that can be used for different jobs the lazer nozzle which has 1 water spray forward and 3 sprays backwards this nozzle is excellent for forward cleaning as it  cuts through roots, tough dirt and other debris. The corner nozzle. This has 1 water spray sideways and 2 sprays backward. This very good for clearing around the corner of blocked pipes. Some of these nozzles produce up 5,000 pounds per square inch pressure. Having a jet flushing unit with those capabilities means that we are yet to find a blocked drain that has beaten us.
Jet flushing units can serve many purposes.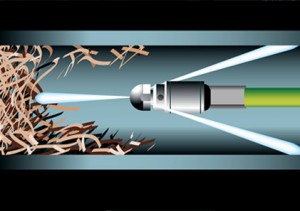 Jet flushing can be used to clear any debris from sewers and drains to general tasks such as cleaning patios, condensers, tanks and production areas. We can provide all the jet flushing services you may ever require.
If you need a reliable well established company for drain clearance look no further. At Drain unblocking Dublin we have over 40 years experience serving the people of Dublin. We can be with you in less than an hour for any emergency situation. All of our staff are up to date with all the industry relevant health and hygiene legislation so you are always in safe hands. We are also fully covered by both professional and public indemnity insurance for your extra security and peace of mind.
Please compare our prices with those of our competitors as we know you will be pleasantly surprised. For any inquiries or free professional advice call us today on 01-6874851.